Bakare® Dementia Low Bed
Bakare's Dementia Low Bed, created in collaboration with clinical
therapists, has been designed to minimise the risk of injury to
encourage users to feel safer and more secure. The dementia bed offers
motorised profiling and height adjustment in an attractive package,
and therefore, complements the aesthetics of your environment – whilst
offering professional nursing bed features. Not only does this product
create a more comfortable environment visually, but it also decreases
the risk of injury, increasing confidence in independence overall.
About the Bakare® Dementia Low Bed
Here at Bakare®, we are dedicated to providing genuine solutions to all
customers. That's why we provide high-specification adjustable beds
with impeccable quality and to medical device standards. This
adjustable mobility bed features a well-padded headboard, a side rail,
foot padding protection, four-section profiling lying surface designed to
maximise comfort whether sitting up or lying down and a raised back
and knee section for convenience or therapy.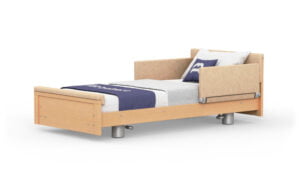 Users can alternate between two different height settings with an
adjustment range of 25cm – 82cm. When lowered, the side rail helps
determine where the edge of the bed is making it much easier to get in
and out. This boosts your sense of freedom and dignity by being able to
rely less on carers. When in a higher position, the rail prevents users
from rolling or falling out of bed, encouraging a sense of security
without feeling confined. The risk of injury can be reduced further by
adding a crash mat.
Our Dementia Low Bed comes with a handset control that operates all
bed functions including different positions, enabling you to find the
most comfortable position, and helping you achieve a greater sense of
comfort and freedom. This product also comes with a 2+2 lockable
undercarriage, making it easy to move the bed for cleaning and care.
For client feedback information on this product, please view here:
Client Feedback – Dementia Bed
Other Information
The Bakare® Dementia Low Bed is available in four different surface sizes – more information can be found here>
Bakare® Dementia Low Bed
Do you know if you qualify for Vat exemption?
Vat relief is eligible to those who:
Have a chronic condition
Are disabled
Have impaired ability regarding day-to-day activities
How to claim Vat exemption:
A written declaration is required before your order is placed, via a
completed Vat Exemption form provided.
➢ If you do not qualify for Vat relief you will be charged 20%.
Other Benefits –
➔ Nationwide delivery/Home Delivery and Installation
➔ Home, Zoom or Skype demonstration
➔ 30-day returns
➔ 30 Day money-back guarantee
➔ 3-year warranty
➔ Up to 12 months of interest-free credit
➔ Precision engineered in Germany to ISO 9001
➔ Trusted since 1993
Our acclaimed support service is available 365 days a year ensuring that professional advice is always just a phone call away.