Client Feedback – Bed Falls Prevention
Sent: 18 February 2016 15:06
To: Louise Peters
Cc: Alex Haste
Subject: Millbrooke Lettings and Management
Hi Alex and Louise,
I would just like to thank you both, and the 2 delivery and installation men who came yesterday for my amazing experience with Bakare Beds Ltd.
From the moment, I telephoned as an enquiry, a gentleman named Alex guided me through all the options in order for me to get the perfect bed for my mum who is 82 years old and has a habit of falling out of bed. We conversed regularly on the telephone and he emailed me any information that I needed. Not once was he pushy, he was so helpful and didn't mind how many questions I asked. When I eventually decided, the process was so smooth and professional and he handed me over to Louise who organised a delivery date and even an approximate time within a 2 hour time scale. She kept in touch with me throughout the whole process. On the day of delivery, as promised, the 2 delivery and installation men arrived 5 minutes early !!….they were there for only 25 minutes but in that time, they installed the bed, explained everything to me and my mum who is also profoundly deaf, set the bed up at exactly the right height for her, made sure it was in the right position, made sure we were confident in using the remote control and left. They were so friendly and helpful and a credit to their profession.
From the start of an enquiry to the end result, I would thoroughly recommend all the above people at Bakare Beds. And as to the bed………my mum is completely overjoyed with it. She has been looking for months to find a bed as good as this and now she has. It has leather side rails to keep her from falling out of bed (she feels so safe) and profiles independently for head and feet. Since having this bed she has had the best nights sleep in a long time. Once again thank you Bakare Beds Ltd and I would thoroughly recommend you to anyone else !!
Kind Regards.
Elaine
The aim of the Dementia Bed is to make the user feel safe and secure and to also minimise the risk of falling. There is padding on the headboard, the side rails and on the footboard of the bed, this is to reduce the chances of the user sustaining an injury from knocking their head or their body on a hard surface. It offers motorised profiling and height adjustment in an attractive package. The Residential is designed to compliment the aesthetics of the room setting, whilst still offering features found on professional nursing beds. Get Details >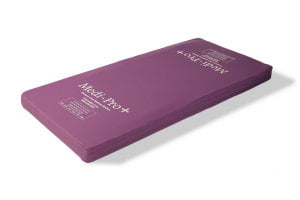 The Medi-Pro® range of static foam mattresses are suitable for use within the home or institutional environments including for users at risk of developing pressure sores and are rated for Fire Retardation to BS7177:1996 Medium Hazard (Source 5), compliant with institutional insurance policies. Get Details >