There are many reasons why elderly people are prone to falls. Older people may have balance problems and muscle weakness, slower reflexes, poor vision or long-term health conditions such as dementia. Older people are certainly more vulnerable and around 1 in 3 adults over 65 who live at home will have at least one fall a year.
People with Alzheimer's and dementia often suffer disturbed sleep or behavioural problems at night – and trying to get out of bed or wandering around at night increases the risk of falling. Some studies indicate as many as 20% of people with Alzheimer's will experience increased confusion, anxiety and agitation beginning late in the day. The falls themselves are also particularly dangerous for people with dementia who are far more likely to fracture a hip and injure themselves if they fall. Medication can also mess with brain chemistry and affect people's sleep and stability. All this can increase the risk of falling while in bed or trying to get out of bed.
Most falls do not result in serious injury but even minor injuries can prove dangerous for elderly people. As our bodies age, bones and muscles become less supportive while also becoming more fragile. Falls can lead to broken bones and also have a detrimental effect on people's mental well-being, leading to a loss of confidence and reduced self-esteem as well as making people feel they are losing their independence. In the UK, falls are the most common cause of injury-related deaths in people over the age of 75.
There are many steps people can take to minimise the risk of falling however – whether it's while in bed, or at any other time. Creating a secure environment is vital for improving physical safety and also helps boost confidence as well.
Do make sure that rooms, corridors and stairs are all well-lit and free from clutter. Dim lighting ¬– and increased shadows – can cause people with dementia to misinterpret what they see and become confused. Baths should have non-slip mats and grab handles, and you should try to ensure there are no dangerous "trip hazards" around the home.
Falls from bed are very common in the elderly especially those with long-term medical conditions and/or dementia. This is why it's vital to ensure you have a bed that minimises hazards ¬– and reduces the risk of serious harm if someone does fall.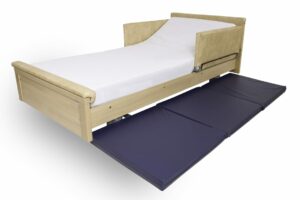 A low bed – such as the Bakare Dementia Low Bed – not only actively improves safety but also reduces people's fear of falling; they will feel a lot more secure and this in turn will help improve their mental state and boost their self-confidence.
A height-adjustable bed also means that carers can work at a height that's ergonomic, safe and comfortable. Bakare's low bed features well-padded headboard, side rails and footboard as standard, so users are less likely to accidentally hurt themselves on a hard surface. The risk of injury can be reduced even further by adding an optional crash mat.
The bed has been beautifully crafted and the side rails on all Bakare beds have been carefully designed both to protect users and provide them with extra help getting themselves in and out of bed. The side rails provide welcome security but ensure users don't feel "trapped".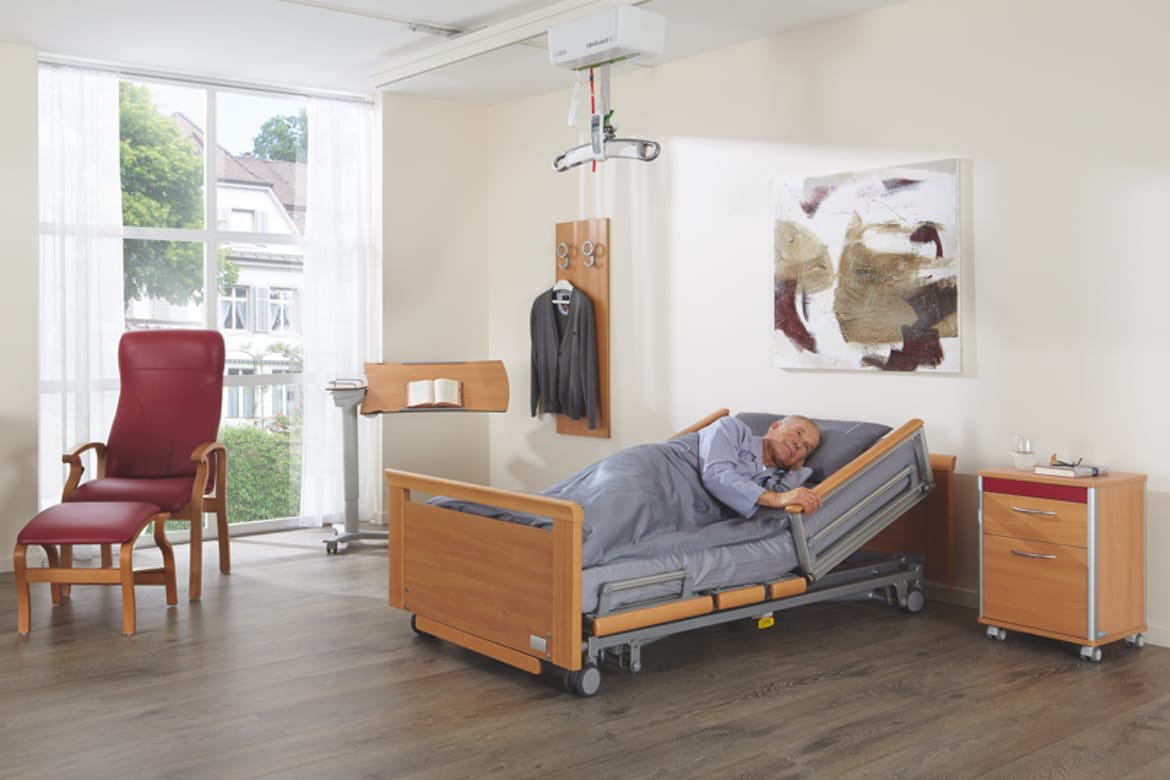 Anyone at risk of falling can benefit from having a height-adjustable bed; it reduces risk and provides extra peace of mind for users and carers. Bakare's range of low beds are available in different sizes and also look great in the home adding to users' sense of comfort and security.
Suitable Beds for People at Risk of Falls: