At Bakare, We Care About Finding The Best Solution For You
For many people, being able to remain at home – even when facing challenging health conditions – is a real priority. Staying at home means you can stay close to friends and family and can benefit from all the comforts – and security – of being in a familiar environment.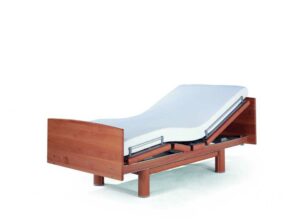 A large part of the home experience comes down to ensuring that you – or a loved one – has a suitable and comfortable bed that helps you regain independence and dignity. For example, beds with four-section profiling, anti-compression lying surfaces provide comfort whether you're lying down or sitting up, and height adjustability makes it easier to get in and out of bed, while also making it easier and safer for carers.
At Bakare, we work very closely with our clients to make sure that get exactly the right bed for their needs. Many of our beds have a "future-proof" design meaning they can be upgraded if users' requirements change at a later stage. For example, our Evolution 400 Residential Bed can be enhanced at any time with "assist" side rails making it easier to get in and out of bed, or even with top and bottom split side rails so that the bed provides greater security and ease of use for carers. All our residential beds have been built to stand the test of time and offer a choice of several wood colour finishes to ensure that the bed will blend in with your existing furniture.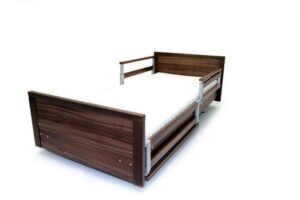 Most of Bakare's clients come to us through word of mouth. We are often recommended by a friend or relative, or health professional such as an Occupational Therapist. Generally, most of our clients are looking for an investment that will last a long time and we're proud to say that we have many beds still "out in the field" nearly 20 years after being delivered.
For many of our customers, the first step is to visit one of our assessment centres where they can chat with one of our highly experienced Sales Advisors. We'll talk through a client's specific needs and find out as much as possible about what they're looking for. Every client is different, and our advisers are focused on listening to an individual's needs and providing advice on what product will be the most suitable for them. The majority of our assessments last 30 – 60 minutes but there is no set time; it all depends on the client's requirements.
Once the client and advisor have narrowed down the choices, clients can test beds at the centre and we also offer a free-of-charge home demonstration service for stock products. There is absolutely no hard sell – we want our clients to feel wholly reassured that they have a great product that's really going to help. We also have a 14-day refund policy for all stock items giving all our clients that extra peace of mind. We take care of all delivery and installation and the initial Sales Advisor remains in touch whenever needed. Building relationships with our clients is a priority for us, and we know how annoying it is if have to deal with a different member of the team every time you call. Nevertheless, all our staff are more than happy to answer questions at any time.
When it comes to choosing a care bed for child, we have a wide range of cots and can work closely with therapists and parents to find the most appropriate bed for youngsters with special needs. Our children's beds and cots are designed to help with care requirements as well as providing children with a safe space to sleep and even play. Many of our cots can be easily adapted to changing needs. We can also help direct parents to various charities that might be able to help with funding.
Many of our beds are bespoke and built to order by our partners in Germany so we usually advise customers to allow six to eight weeks for delivery. For beds that are in stock, delivery can obviously happen a lot more quickly. As part of the Bakare service, we always provide a two-man delivery, installation and training service so customers know exactly how the bed works and how to get the most out of all its features.
Throughout the consultancy period, clients deal with a dedicated contact within Bakare. For after-sales technical support, clients first speak to our technical support staff but are free to call their initial sales adviser at any time. Their sales adviser will always be informed if there are any ongoing communications or changing requirements.
Established in 1989, Bakare is a trusted and reliable partner with decades of experience and expertise. We are dedicated to providing customers with genuine solutions that really meet their needs and have an unrivaled reputation as a truly caring and conscientious company.
To arrange your assessment with Bakare, please feel free to call us on 01752 512222 or email info@bakare.co.uk.