In general, people with dementia are up to five times more likely to fall than similarly-aged people who don't have cognitive impairment. This means falls are a real risk for people with dementia and the falls themselves are also particular dangerous; people with dementia are far more likely to fracture a hip and injure themselves if they fall which can lead to surgery and immobility. This means that fall prevention for people with dementia is absolutely vital for their health and well-being.
Getting in and out of bed unaided is a challenging task for many people – especially if they're using beds of normal height – so it's no surprise that this when falls are most likely to happen for people with dementia. With that in mind, having a bed that minimises hazards ¬– and reduces the risk of serious harm if someone does fall – is all-important.
A low bed not only actively improves safety but also reduces people's fear of falling; they'll feel a lot more secure and this in turn will help improve their mental state.
One of the best solutions for people with dementia is a height-adjustable bed; a range of 25cm-82cm means users benefit from the extra security and protection of a low bed while those caring for them can work at a height that's ergonomic, safe and comfortable.
Bakare has worked closely with clinical therapists in designing the Dementia Low Bed which provides peace of mind for users and carers alike.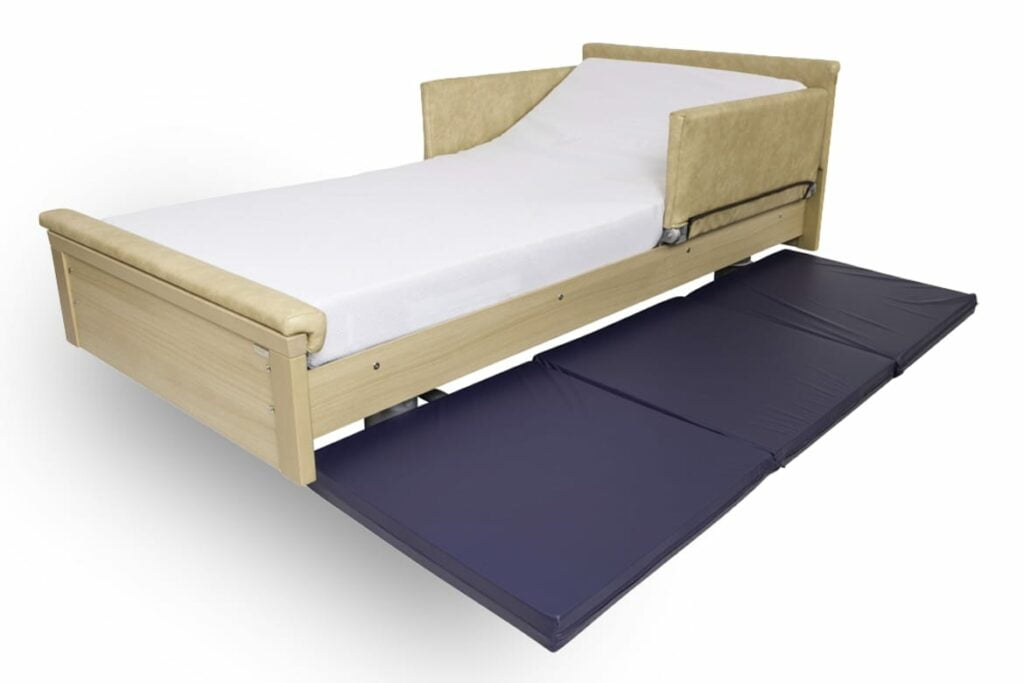 The Dementia Low Bed is fully height-adjustable and can go down as low as 25cm providing a very safe environment as well as helping to boost confidence. The bed also features well-padded headboard, side rails and as standard, so users are less likely to accidentally hurt themselves by knocking themselves on a hard surface. The risk of injury can be reduced even further by adding an optional crash mat.
Spatial Awareness
One of the challenges that people with dementia face is with spatial awareness. Alzheimer's and other forms of dementia can seriously affect visuospatial abilities making it hard for them to interpret and understand what they're seeing.
Bakare's Dementia Low Bed side rails have been carefully designed both to protect users and provide them with extra help getting themselves in and out of bed. There are two different height settings, and, in the lower position, the rails act as a point of reference, helping users determine where the edge of the bed.
In the higher position, with only the head rail raised, users are prevented from roll out of bed accidentally and are less likely to hurt themselves if they become distressed and try to get out of bed on their own. The side rails provide welcome security but ensure users don't feel "trapped".
Bakare has also designed a unique dementia furniture range, which features enhanced visible areas as part of the furniture handles. This allows people with dementia to visibly see what's stored within the wardrobe or chest of drawers.
The Dementia Low Bed is also very easy to use with a convenient handset that operates all bed functions. The four-section profiling lying surface is designed to maximise comfort whether users are sitting up or lying down. The Dementia Low Bed also comes with a 2+2 lockable undercarriage as standard, making it easy to move the bed for cleaning or care. The bed can even be moved at its lowest position, thus further reducing the risk of injury.
Stylish Design
Keeping the home environment as familiar as possible is also important when it comes to caring for people with dementia. The Dementia Low Bed boasts a stylish design with a wide choice of different wood finishes so it can fit in well with existing décor and keep their home looking like "home.".
The Bakare Dementia Low Bed is built to last – a high-quality, robustly-built and precision-engineered bed that will stand the test of time. Bakare's acclaimed support service is also available 365 days a year providing extra peace of mind – professional advice is only a phone call away.
Disclaimer: we recommend seeking consultation from a healthcare professional such as an occupational therapist when specifying any equipment, such as beds for use with conditions such as dementia.
Find Out More