Learning to sleep through the night is something all children have to do, but for children with special needs, it is often more difficult, placing a strain on their families.
One of the best ways of improving this is to make your child's sleeping environment as safe as possible, knowing that if your child wakes, they cannot harm themselves. BaKare provide beds suitable for special needs children meaning they can enjoy a safe & comfortable sleep, meaning that you are less likely to be disturbed.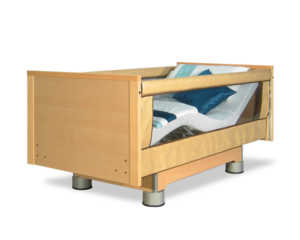 Our Klearside® provides comfort, safety & security using transparent / padded sides, which allow good vision inside and out of the bed. The back section and knees can be raised for comfort or therapy and the height can be adjusted for care. Our customers have found the Klearside® to be suitable from early years through to teenage years and adulthood.
The 2012 Klearside® will be exhibited at Naidex and Kidz South. For those who cannot make it to the shows, BaKare have helpful staff across the UK who can offer demonstrations.