Our high low beds have been designed to benefit users vulnerable to falls from bed through the use of ultra-low undercarriages, meaning the user can sleep at a very low surface height. Low beds are often recommended where the user is to sleep without the use of side rails.
The Evolution 400 is a professional high low nursing bed which can adjust from it's lowest setting of 25cm above the ground up to 82cm high using low voltage electric motors controlled by a handset.
The Evolution 400 low bed is a highly specified low bed, offering configurable wood finishes and side rail arrangements. The Evolution 400 uses intelligent motor control systems to ensure excellent comfort and positioning assistance for the user, whilst offering the carer time saving and safety features during moving and handling operations. The concealed braking system offers increased stability whilst retaining its aesthetics.
Why Use Low Beds?
Low beds are useful as part of a multi-faceted approach to reduce the risk of injuries from falls from bed.
For dementia patients where they are assessed as being of high risk of injury of falls, we often recommend the use of a low bed with head end assist / side rails with protective padding.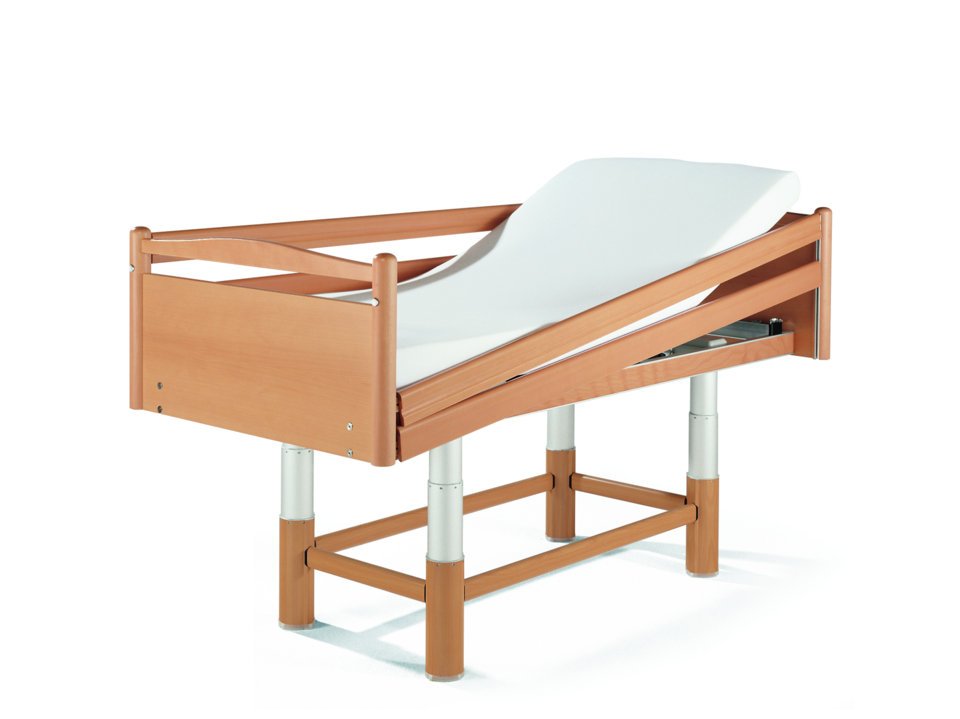 BaKare's low beds will adjust as low as 25cm above the ground and will rise to 82cm high. Many other low beds suffer from overly large footboards due to their design, making the user feel 'boxed in'. Our design is unique because they retain the standard footboard and appearance whilst offering true low bed and high bed range of height adjustment.
When transferring into bed, raising legs and feet up onto the bed can be difficult for both carers and users. Motorised, mechanical leg-lifters are one way of achieving this, however users often compain that they are bulky, expensive devices retro fitted to the bed.
An often overlooked benefit of our low beds is that instead of using a mechanical leg lifter to raise the feet, the bed may be lowered closer to the ground with the user sat on the bed and feet on the floor, effectively raising the feet nearer to the mattress height. For partially independent users of our beds, we find that this can mean transferring into bed without assistance, thus increasing independence & well being, whilst reducing costs and demand on care.
For more information please visit our high low profiling beds section