Introduction
This guide is designed to summarise the main benefits and features that should be considered when selecting an electric bed for persons with disabilities within the community or care environment.
What is an Electric Bed?
Electric beds typically use low voltage motors to control and elevate the profiling lying surface of the bed and adjust the height of bed. This is done by a small handset which is used to control independent low voltage motors integrated into the bed's undercarriage.
The choice in electric beds for people with disabilities in homecare and community use has grown considerably over the last two decades, having previously only been used for medical care.
An electric bed can be adjusted to a number of different positions using a profiling lying surface, which can commonly incline the upper body and raise the lower body independently of each other.
What are the benefits of Profiling?
For users with restricted mobility or disabilities which impair movement, the electrically controlled profiling facilitates independent positioning in order to sit up in bed to read or watch TV, which can help to maximise comfort & assist relaxation.
Profiling can also be used to sit-up the user prior to transfer into or out of bed. Some adjustable beds offer a chair or comfort position which is perfect for those that want to eat, read or relax in bed.
Our beds have separate head, centre & foot sections which are all independently moveable. The handset controls low voltage electric motors which change the profile of the bed.
Powered by a motor underneath the mattress surface, each section of the bed can be positioned independently.

The back section on BaKare's beds is automatically withdrawn when raising, in order to reduce stomach compression.
Height Adjustment
A height adjustable bed can be raised & lowered at the touch of a button on the handset. The handset controls low voltage electric motors which raise and lower the bed.

Lowering the height of the bed is beneficial for those with a limited mobility when getting into and out of bed. The variable height also aids those that transfer from a wheelchair to set the bed at the correct level to assist the manoeuvre into or out of bed.
A height adjustable bed can be raised to a high height, which means that carers don't have to bend dangerously when assisting a user. Height adjustability reduces the risk of back injury to the carer and is a requirement by many social services authorities which provide home care.
Some adjustable electric beds can lower themselves very close to the floor, meaning that if you were to fall out of bed, there would be a reduced risk of injury. For extra low beds, please visit our low electric bed section.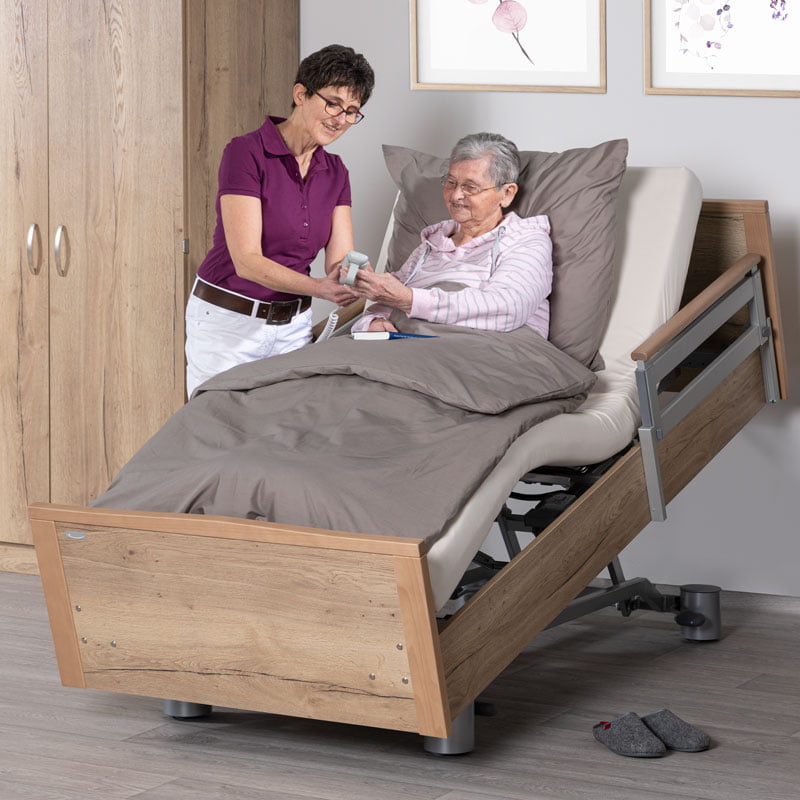 Further Reading
Recommended further reading to view would be: