Both those with limited mobility and their carers have a huge list of health and safety concerns to adhere to when it comes to comfortable housing and living. When caring for a loved one with a disability, it's important to be constantly ensuring that the environment in which they reside is both comfortable, safe and accessible. Home furnishings can, and should, always be adapted in order to improve mobility and prevent injury. We've put together some helpful tips for choosing the right kind of home furnishings for comfortable disabled living.
Assistive Furniture
Choosing furniture which promotes and assists with mobility is absolutely important when you look after somebody with a disability as being able to stay mobile and as active as possible is vital for supporting both physical and mental health. Staying mobile also helps to relieve aches and pains, encourages muscle development and helps a person to stay in shape. When it comes to home furniture, there are a range of different adaptive designs which will help to improve mobility. For example, beds with assist rails, such as those from BaKare are one of the most common additions to the home of a disabled person as they allow for easier movement and mobility. Other furniture items, such as reclining chairs and other adjustable furnishings are also important for helping with day-to-day living in many cases.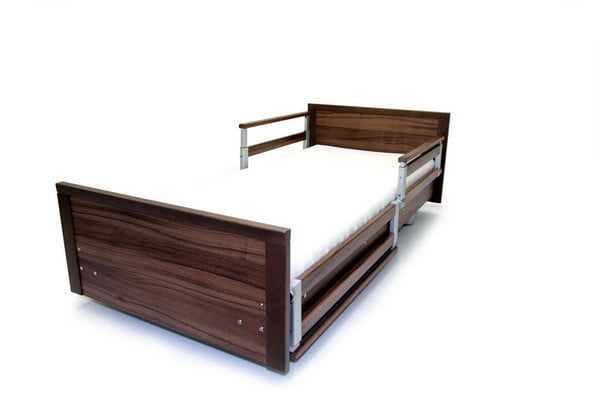 Image Evolution 400 Low Bed
Encouraging Good Posture
For many people who live with limited mobility, ensuring that they maintain a good posture is important to keeping them in good health and avoiding aches, pains and other physical health problems. Neck and back pain, poor circulation, and even mental health issues such as an increase in anxiety or depression can all occur as a result of somebody with limited mobility being consistently uncomfortable by having the incorrect posture. Because of this, supportive furniture which will encourage the right posture needs to be a priority when furnishing a home for disabled living. This is especially true for chairs, which need to be chosen carefully and ideally should have posture retaining features, such as sculpted back rests or adjustable seat angles.
Risk of Injury
People with disabilities or limited mobility tend to be more at risk of injury than most other groups of people. When it comes to furnishing the home of somebody with limited mobility or a disability, preventing accidents and injury should be at the forefront of every decision. One of the most common problems with disabled living is the risk of falls. Sustaining falls not only cause injuries often, but it can also contribute towards health deterioration by making existing mobility issues worse or even creating new ones. Because of this, it's vital to choose furniture items which are lowered to the correct heights in order to minimise the risk of trips and falls. You may also want to consider obtaining furniture which is padded and has rounded edges, which reduces the risk of injury from bumping or knocking into furniture.
If you look after somebody who has a disability or even have a disability yourself, these tips will help you achieve comfortable and safe disabled living.