Most people can plan sightseeing, shopping trips or visits to public buildings without having to even consider the logistics of where they're going to go to the toilet. But according to the Changing Places organisation, there are more than 240,000 people with disabilities for whom ordinary toilets – or even standard "accessible" toilets – are simply not good enough because they don't have a changing bench, lifting hoist, peninsular toilet or adequate space.
Without these extra amenities, many people with disabilities are effectively barred from taking part in activities and outings that most people take for granted – simply because there is nowhere appropriate for them to go the toilet.
Among those affected are people with profound learning disabilities, muscle-wasting conditions, motor neurone disease, multiple sclerosis and cerebral palsy, as well as people who have suffered major physical trauma, had a head injury or stroke as well as some older people. In fact, many people who need assistance to use the toilet need specialised Changing Places facilities.
The Changing Places organisation is now campaigning for their toilets to be installed in a wide variety of public venues including city centres, shopping centres, arts and concert venues, hospitals, train stations, airports, service stations, leisure complexes and sports stadiums.
A Changing Places toilet is designed for people who cannot use standard accessible toilets and provides sanitary accommodation for people with multiple and complex disabilities who have one or two assistants with them.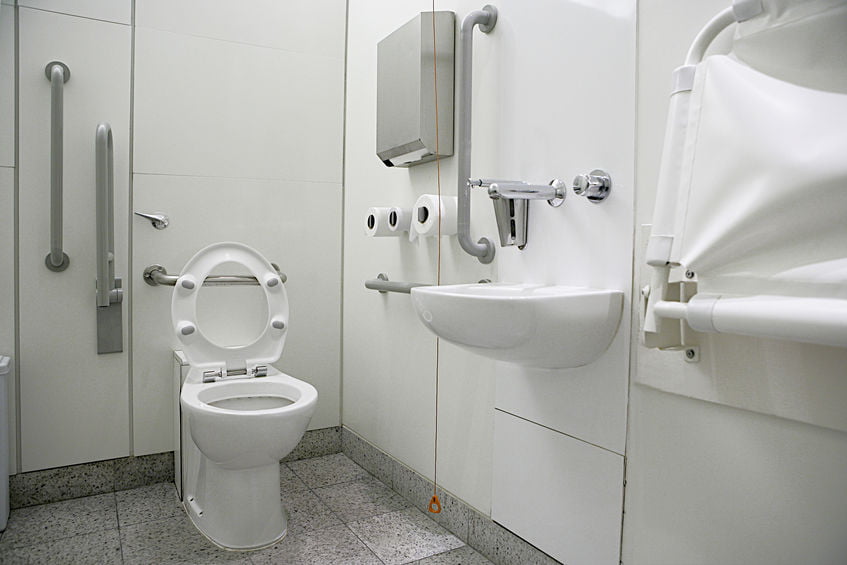 The good news is that Paula Sherriff highlighted the issue with a Private Members' bill last year and in May this year the Government launched a consultation about making Changing Places toilets a requirement for all new large buildings that will be used by the public.
Of course, it's not just "out and about" that people with disabilities need adequate toilet facilities. There is often a need for specialised equipment in the home – to help people retain their dignity and independence and to make life easier and safer for carers. Bakare Beds are firm supporters of the Changing Places campaign. CEO Steve Baker said: "It's pretty disgraceful that being unable to find adequate toilet facilities can have such a major impact on people's ability to get out and about. We also recognise the need to help people live more independently at home as well. In addition to our beds products, we provide a range of high quality overhead hoists that aren't going to cost the earth to install or require costly building work to widen doorways or reinforce ceilings."
"All our products are aimed at helping to restore people's dignity and self-esteem and enable them to be cared for more easily at home. Our overhead hoists are a great solution for people seeking to adapt their own property at an affordable cost and with minimal disruption."
To this end, BaKare can now specify, supply, fit & service the Likorall® Overhead Ceiling Track Hoists which are certified in accordance with the medical device standard ISO 13485 meaning they are suitable for changing places specification. These acclaimed hoists can revolutionise care – offering coverage to almost an entire room but – unlike mobile hoists – taking up zero floor space. The hoists can be fitted to almost any type of room, even those with plasterboard walls & false ceilings, with no need for major structural alterations. This can be a godsend for people who need specialised equipment but find it impractical to seriously modify the rooms to suit.
Liko™ hoists are super-robust, supporting weights up to 500kg (80 stone), but the slim 15cm upright supports are very discreet so won't intrude on existing décor. It's even possible to get curved uprights so that skirting or dado rails can stay put and there are a range of solutions for non-load bearing walls. The hoists also make life a lot easier for carers as you can transfer from room to room with just one person on hand to help.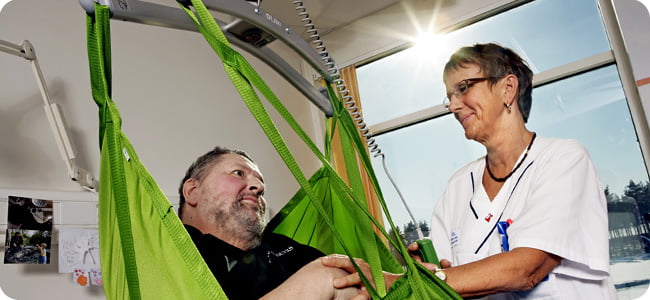 BaKare overhead hoists are built to last – a high-quality, robustly-built product that will stand the test of time. BaKare's acclaimed support service is also available 365 days a year providing extra peace of mind – professional advice is only a phone call away.
How are Changing Places Facilities different from Standard Accessible Toilets?
A Changing Places toilet facility must include:
height­-adjustable, adult­-sized changing bench
ceiling track hoist system
adequate space for the disabled person and up to two assistants
centrally located toilet with space both sides for assistants
privacy screen
wide paper roll
large waste disposal bin
wash basin, preferably height adjustable
British Standard for Changing Places
British Standard 8300:2018: Design of buildings and their approaches to meet the needs of disabled people provides guidance on good practice for the design of new buildings and their approaches to meet the needs of disabled people. As a code of practice, this British Standard takes the form of guidance and recommendations. The guidance in this standard covers a wide range of impairments and the use of the built environment by disabled people who may be residents, visitors, spectators, customers, employees, or participants in sports events, performances and conferences.
BS 8300:2009 Design of buildings and their approaches to meet the needs of disabled people was published on the 27th February 2018, and recommends that Changing Places toilets should be provided in larger buildings and complexes, such as:
a) major transport termini or interchanges, e.g. large railway stations and airports
b) motorway services
c) sport and leisure facilities, including large hotels
d) cultural centres, such as museums, concert halls and art galleries
e) stadia and large auditoria
f) shopping centres and shop mobility centres
g) key buildings within town centres, e.g. town halls, civic centres and main public libraries
h) educational establishments
i) health facilities, such as hospitals, health centres and community practices.
Products & Services Where We Can Help
Bakare can advise, supply, install & service Liko overhead hoists and changing benches.
To find out more about Liko overhead hoists, please view here
To find out more about our changing benches please visit here 
Find Out More