In July 2012, work started on cladding the exterior of the BaKare offices.
There is quite some difference between the before and after shots: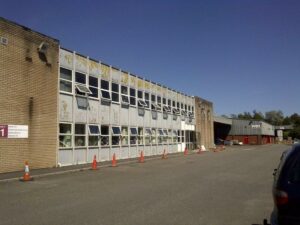 The shot above was taken just before the London 2012 Olympic opening ceremony.
The shot above was taken 2 weeks before Christmas.
Although it has taken 5 months, we are pleased with the results (although its made a bad mobile phone signal even worse!), and think you would agree that it has smartened up the appearance.
If you would like to visit our head office and showroom to view our beds, or would like to bring an OT for an assessment, please contact us using our contact page. We can be found at the address below: